By: Bob Lillie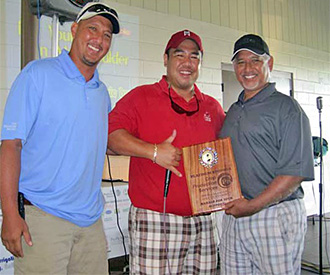 Rob Dunford and Ron Kauhaahaa from Crop Production
Services pose with H.G.C.S.A. President Les Jeremiah Jr.
as our Platinum Sponsor for our Annual Golf Tournament.
This year's HGCSA Annual Golf Tournament, presented by Crop Production Services was held at the Royal Kunia Golf Club. It was a beautiful afternoon and contestants were treated to favorable playing conditions as the winds were mild and the weather was perfect for golf. Jared Nomitsu, Golf Course Superintendent, did a fine job of preparing the course for the tournament, as well as making all the arrangements for our banquet and awards ceremony afterwards. Thanks Jared!
As I mentioned earlier the conditions were terrific, which made for some great scores. The flight winners were: A - Ian Hunt (Hoakalei), B - Kalani Voeller (Hoakalei), C - Jared Nomitsu! (Royal Kunia), and Guest - Eli Pablo (BEI). This year's Low Gross champion was Stephen Takashige from Leilehua. Way to go, you lucky dog! Obviously each of these individuals has much more time on their hands then they're leading onto, as is apparent by the impeccable playing skills they demonstrated.
Prizes were also awarded for the closest to the pin on the par 3's, sponsored by Landscape Hawaii. The winners were: hole #5 - Chad Higaki, hole #8 - Bob Luat, hole #13 - Bob Lillie, and hole #17 - Wayne Yamamoto. In addition to their own winnings, each member of their respective foursome also received a monetary prize for having been fortunate enough to be paired with these fine golf aficionados. You're welcome.
Our after-tournament banquet and awards ceremony was every bit as enjoyable as the tournament itself. The food was outstanding, the refreshments were bountiful, and the live entertainment, provided by our own President, Mr. Les Jeremiah, was superb as he sang to the hits from today's top entertainers, such as Brittany Spears, Lady GaGa, Beyonce, and a bunch of hip hop performers. I guess if you live on Lanai you have to provide your own entertainment, and Les had plenty of that to go around. Other fine talent emerged from the likes of CPS's own Rob Dunford and long-time sup Tim Ayau, now with Pacific Agricultural Sales. B. Hayman's Al Kakazu also made a guest appearance to add additional excitement to the evening. Thanks to all the brave souls who ventured up to the mike to provide the memorable experience we all witnessed. Being one of those who didn't have a drink that evening, I just have one word of advice for you guys, keep your day jobs.
We would like to thank everyone who participated in this year's event. To all our Gold and Tee sponsors, thanks for your support for without you this event wouldn't be possible. Also, thanks to all the golf courses who donated rounds of golf to be used as prizes for our guest flight. Thank you to Jared Nomitsu and the staff at the Royal Kunia Golf Club for being a gracious host for our tournament. And we would like to send a special Thank You out to the folks at CPS for being the title sponsor at this year's event. Rob, Ron, Reggie, Sue, Al, and the rest of the folks there provide outstanding service for our industry so please remember to thank them when one of them calls on you in support of your operations.