By: Matt Ellis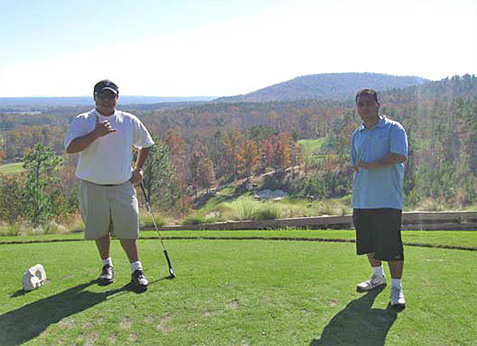 Les Jeremiah Jr. and Matt Ellis on one of the signature holes at Farmlimks.
Alabama is one of the top golf destinations in the country, most notably for the Robert Trent Jones Golf Trail. The Experience at Farmlinks is another golf destination that is growing in popularity among Golf Course Management Professionals around the country. Established in 1999 in Sylacuga Alabama, Farmlinks is a unique customer focused educational facility in partnership with some of the top names and innovators in the industry with a 1 of a kind research and demonstration facility, an 18-hole, 7,444 yard championship golf course with first class accommodations and southern hospitality. Thanks to the Toro Company & Kona Irrigation, Les Jeremiah Jr. (Manele/Koele on Lanai), Orlando Baraoidan (Kapalua on Maui), myself and 17 other Superintendents from around the country had the opportunity to participate in "The Experience @ Farmlinks".
Our after-tournament banquet and awards ceremony was every bit as enjoyable as the tournament itself. The food was outstanding, the refreshments were bountiful, and the live entertainment, provided by our own President, Mr. Les Jeremiah, was superb as he sang to the hits from today's top entertainers, such as Brittany Spears, Lady GaGa, Beyonce, and a bunch of hip hop performers. I guess if you live on Lanai you have to provide your own entertainment, and Les had plenty of that to go around. Other fine talent emerged from the likes of CPS's own Rob Dunford and long-time sup Tim Ayau, now with Pacific Agricultural Sales. B. Hayman's Al Kakazu also made a guest appearance to add additional excitement to the evening. Thanks to all the brave souls who ventured up to the mike to provide the memorable experience we all witnessed. Being one of those who didn't have a drink that evening, I just have one word of advice for you guys, keep your day jobs.
Over the next three days, we participated in various presentations with Toro, BASF, Farmlinks Superintendant, Mark Langler, and had the opportunity to talk with other superintendants form other regions and discuss issues that they face and practices they use to rectify these issues. We also got hands on with Toro's Turf Guard soil monitoring system, 800/DT Series Sprinklers and even got a first look at their new central control software and added input and suggestions to the development of the product. On a course tour with Superintendant Mark Langler, he shared his experiences with different products and equipment and various test that the facility has conducted with different grasses, fertilizers and watering agents in conjunction with Turf Guard.
We did find time during our trip to unwind and have some fun. Carl Standifer from Toro took us to Talladega Speedway and Motorsports Hall of Fame. Les dominated on the ping pong table (I thought I was watching a ping pong competition at the Olympics in China) while Orlando and myself held our own on the pool table. We also got in on a little Texas Hold'em. Yes, we did play a few rounds of golf. It was during our first round that we got our first taste of the "Next Gen" golf carts that will shut itself down if you venture into area's that are "restricted" via GPS and you must slowly make your way back in reverse until your back in a unrestricted area. These are just some of the many great amenities offered at Farmlinks and I haven't even touched on the food, but I'll leave something for everyone to discover for themselves.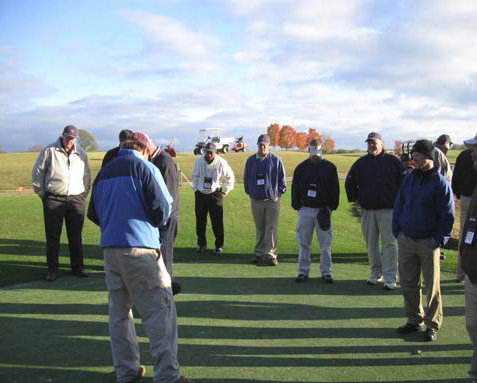 Orlando Baraoidan (back middle) trying to keep himself warm as temperatures averaged between 39-72 degrees Fahrenheit throughout the day.