By: Al Kakazu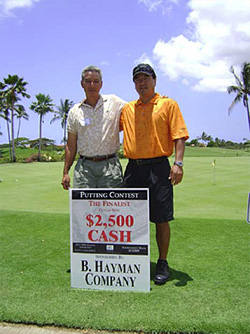 Jay Shintaku with Al Kakazu after
making the winning putt for $2500.
Over 300 turf & equipment professionals participated in the annual field day, golf tournament, and seminar events held at Kapolei Golf Club on May 13 & at Honolulu Country Club on May 14. The events were great and the best part is the gathering of old friends again and meeting of new acquaintances.
For the equipment field day and golf tourney on the 13th, we were blessed with wonderful weather and terrific hosts - Andy Miekle and the entire staff at Kapolei Golf Course set up the equipment areas and golf course beautifully and their service was excellent.
Participants inspected the multitude of turf equipment up close. Jacobsen greens mowers, fairway mowers, and rotary units were available for in depth reviews. The power and superior after cut finish of the Jacobsen AR-3, Triplex Rotary Mower, and Jacobsen AR-522, 5-Gang Rotary Rough Unit, were presented. The uniqueness of the Jacobsen Eclipse hybrid walking mowers was demonstrated - using a prism, attendees were able to view the results of the exquisite quality of cut.
Many took the opportunity to run the new Tru-Turf 52" greens roller — the operational speed, quality results, and efficiency of the unit was experienced first hand. The Turfco TriWave Seeder drew a lot of interest; especially from those looking to reconstruct fairways or convert to seeded seashore Paspalum. The Atom cartpath and bunker edgers were popular also — great time savers with quality results. The PlanetAir aerator was run to showcase its efficiency and minimal disruption on the greens; however, the biggest benefit is the potential to eliminate at least one core aeration during the year!
The highlight of the golf tourney happened before the first tee shot was hit. Jay Shintaku, of Pioneer HI-Bred Kunia made a 50 foot putt to win $2500!!! It was a perfectly stroked putt with a downhill hook that landed squarely in the hole — Congratulations Jay!
As usual, there were tons of prizes awarded. They varied from DVD players, golf shirts, Titleist Pro V1 golf balls, noise cancelling headphones and even Heineken Mini Kegs (I wonder how Jim Cashabeck from Wailea Gold brought his keg back to Maui?)
The team of Kekoa Willing, Rob Dunford, Matt Lochotzki, and Willie Suckoll shot an outstanding 34 under par to take first place (we hope they enjoyed their winnings — each got a case of saimin). The team of Ron Kauha'aha'a, Anthony Engelsgaard, Tony Sibert, and Jack Hardy shot an honest and respectable 7 under par to pull in last place. Closest to pin honors went to Russ Dooge, King Kamehameha Golf Club, and Andrew Kendell, HI Landscape Corp. There was much food and drinks consumed at the banquet and we understand that for some, post-banquet activities continued throughout the night!
The seminars hosted by CPS on the following day were packed as usual. A full slate of 24 different presentations was offered. In addition to the wealth of information provided, very valuable credits for RUP Applicators, GCSAA Certified Superintendents, Arborists, and Certified Landscape Technicians were awarded.
A warm mahalo goes to all those who attended and supported the events. We hope to see you next year!
B. Hayman Co. Technical Training Seminars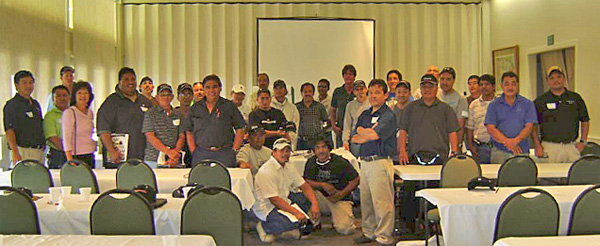 Jacobsen training class held at Peal Country Club on Oahu.
Ongoing training is especially critical in the current day of constant change with relentless pressures to improve efficiencies and cut costs. Understanding this, B. Hayman Co. was pleased to offer FREE technical training seminars on May 19 and 20th. We were fortunate to have Fidel Baca, Jacobsen's National Product Support Manager, in town to present the seminars. Fidel is no stranger to the islands and is highly respected for his advanced technical knowledge and articulate, down to earth presentation style. General electrical, hydraulic, and mechanical issues were covered. In addition, several specific troubleshooting tips were offered. A sampling of various Jacobsen units were available for detailed review of components — the AR 522 five gang rotary mower, LF 3800 fairway unit, Eclipse hybrid walking greensmower, and Gplex III & Greensking IV triplex greensmowers were presented.
The seminar on May 19th was held at the Hualalai Resort Golf Maintenance Facility. With the assistance from the newly formed Big Island Equipment Technicians Association, led by Eric Ryan of Kukio Golf Club, we were pleased to bring together 23 Big Island participants for this event. The following day's seminar on May 20th had an overflow crowd of nearly 50 gathered at Pearl Country Club. Participants included technicians from Maui, Kauai, Lanai and Oahu.
Lively interaction amongst participants, and sharing of real life experiences from the seasoned professionals, added to the wealth of knowledge conveyed during these sessions. An important part of these seminars is the personal interaction and networking amongst the participants. There aren't enough of these opportunities for turf equipment technicians to gather and share experiences.
Based on the positive feedback from attendees, we're extremely pleased that participants gained valuable knowledge, renewed old friendships, and established new relationships that will benefit on the job duties and otherwise also.
Thank you to Hualalai Resort, Pearl Country Club, and the Big Island Equipment Technicians Association for their help in putting on these seminars.